Airframe Mechanics and Aircraft Maintenance Technicians are qualified to perform service or make repairs on all types and sizes of private and commercial aircraft, including airplanes, helicopters, and their propulsion systems. Stratford School for Aviation Maintenance Technicians provides extensive hands-on training in small classes with well-trained teachers. The two-year program provides training that enables the student to develop operative skills that meet the license requirements of the Federal Aviation Administration.
Upon completing the General, Airframe and Power Plant curriculums students are certified as an Aviation Maintenance Technician (AMT). They are prepared to take the FAA examinations.
The FAA's minimum academic requirement for the AMT certificate is a high school diploma or GED. Mathematical and mechanical aptitude are essential, as well as reading, writing and language skills.
Graduates from this program may obtain jobs as airport mechanics and technicians for aircraft and power plant companies. This is a FAA Part 147 School TF5T221N.
The school day is from 7:40 a.m. – 2:30 p.m.
A rolling enrollment takes place with classes enrolling every 128 days. Enrollment periods are September, March and December. Learn more about our admissions process.
The school year is 192 days long.
Any weather cancellations will be taken from scheduled vacation time in December, February or April.
---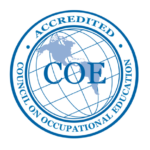 Programs accredited by:
Council on Occupational Education
7840 Roswell Road
Building 300 Suite 325
Atlanta, GA 30350
Telephone Number: 1-800-917-2081
http://www.council.org/
Program Details